Why Should You Host A Party on A Yacht?
Hosting an event on a luxury yacht is undoubtedly one of the best ways to ensure that you and your guests have a memorable day. The best part of a party boat rental Dubai is having an endless variety of options, from excellent amenities to 5-star customized catering and more. When planning a yacht party, the host must consider all the benefits offered, including the most appealing ones, which we discuss below.
Magnificent Views
If you rent the yacht during the day, you are offered marvelous views of the skyline and the sun reflecting against these iconic buildings. A sunset rental package allows you stunning views of the sun dipped beneath the horizon and against the architecture. On the other hand, the night package is its own kind of beautiful as you get to feast your eyes on the skyscrapers at night.
Unique Venue
There are only a number of places that manage to match the wow factor of a yacht when it comes to offering a unique venue. It is the perfect blend of class and elegance, sure to impress even the non-partygoers. At Seven Yachts, you are offered a wide range of yachts for you to choose from, irrespective of the size. If you are looking for a small yacht, we have the Daydream and My Serenity, which can accommodate 15 and 12 people, respectively. Both are well equipped with a range of luxury amenities and activities that will keep you and your guests entertained. We also have large-sized boats for bigger events with a large number of guests. The best part is, you can have the package tailored to your needs and party requirements.
Experience Like No Other
Unfortunately, everyone is not privy to the scenery offered while cruising on a yacht. From the crystal-clear blue sea to views of the stunning skyline, glittering ocean dotted by yachts – this is a unique experience that is going to be etched in your memory. The exceptional views offered on the sea are ones that cannot be explained but only be experienced. When you opt for a live BBQ session onboard, you have an opportunity of alfresco dining with beautiful views of the ocean. It's also a great way to unwind and enjoy your yacht party. At Seven Yachts, we allow our guests to bring alcohol; however, you need to drink responsibly to avoid any mishaps.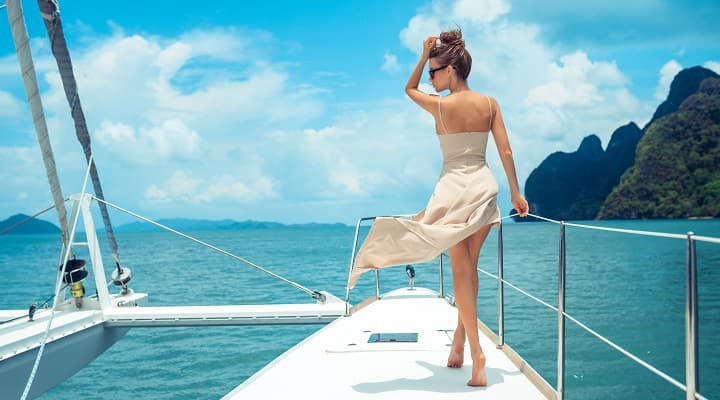 Limitless Entertainment
While there is a cap on the number of guests, depending on the yacht you select, that doesn't mean you have to limit your entertainment onboard. Each of our yachts has spacious sundecks where you can enjoy your favorite drink while grooving to some of the best music delivered by our DJ, which you can request while curating your package. Our package includes champagne, a cake, decorations, and we also have an onboard chef who can prepare the menu based on the requirements of you and your guests. We even cater to additional requests that guests may have. Also, you and your guests can take advantage of our water toys made exclusively for your guests, enhancing your overall experience.